Teaching WordPress in School is great for students since 40% of all websites are built on WordPress. Most probably including your school's website. WordPress is by far the most popular content management system (CMS) today. Knowing how to use CMS is a practical skill that prepares your students for the digital age.
With WordPress, your students will gain hands-on experience in website and application development, as well as digital literacy and problem-solving skills.
These skills are highly valued in the job market and can be helpful for learners who want a career in computer science, web development, digital marketing or anyone who aspires to become an entrepreneur.
Take advantage of the opportunity to equip your students with practical skills and set them up for future success. Discover the power of WordPress education and revolutionize your classroom today!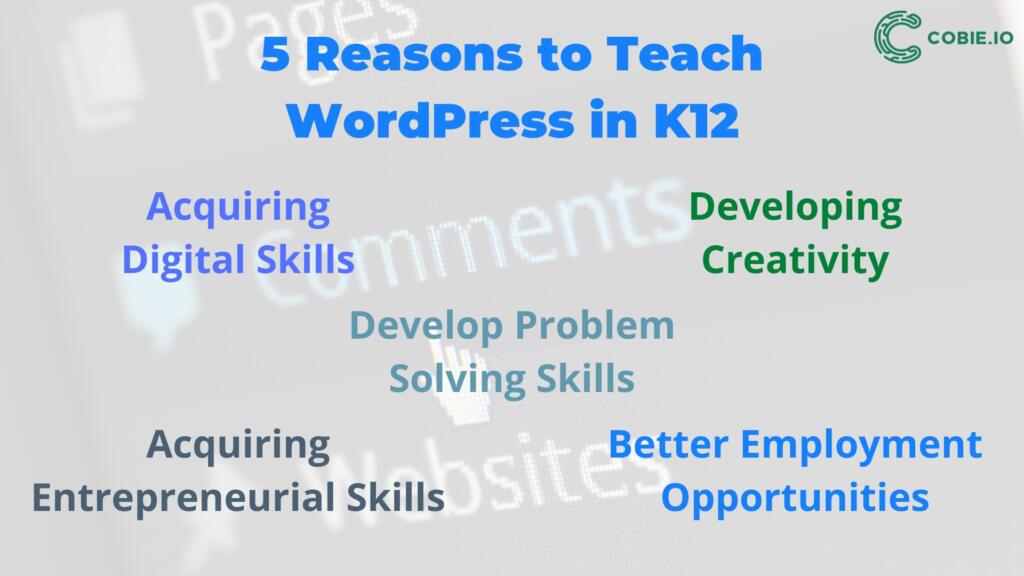 5 reasons why it is important to teach WordPress in school:
Acquiring Digital Skills
Developing Creativity
Develop Problem-Solving Skills
Acquiring Entrepreneurial Skills
Better Job Opportunities
Cobie AI and WordPress: The Perfect Combination for Teaching and Learning
Teaching WordPress in school can be a challenge. That's where we come in. With Cobie AI teaching WordPress has never been easier. Our team has experience in teaching WordPress in online workshops. We build Cobie AI with teachers to provide them with the methodology and tools they need to teach WordPress in school effectively and with ease. Our smart classroom technology enables teachers to monitor and guide their students in real-time as they work within WordPress.
We understand that CMS are a creative tool that can make controlling lessons' flow challenging. Our tools save teachers time and simplify the learning process, allowing them to focus on what they do best – teaching.
With Cobie AI and WordPress, students can acquire highly sought-after skills. These skills are valuable in the job market and can benefit any student, regardless of their future career aspirations.
Join us in revolutionizing the classroom and providing students with practical skills for the digital age. Try Cobie AI and WordPress today!
How can Digital Skills be addressed by teaching WordPress
Learning WordPress helps students develop digital skills that are increasingly important in today's digital world. Digital skills include understanding the use of technology to communicate, produce content, and create and share information.
Teaching WordPress in school develops digital skills through hands-on experience in website development, digital content creation, social media integration, data management, and digital privacy and security.
Web Development: by learning how to create and customize a website using WordPress, students will gain a better understanding of how websites are built and how different technologies work together. WordPress also provides students with hands-on experience in web development with an introduction to HTML, CSS and JavaScript.
Digital Content Creation: WordPress allows students to create and publish digital content, including text, images, and videos. This helps students understand how to communicate and share information online effectively.
Social Media Integration: by creating content, we show students the connection between the website and social networks (e.g. Facebook and Twitter). This helps students understand how social networks and websites work together to reach a wider audience and what the responsibilities of authors are in each medium.
Data Management: WordPress involves managing and organizing data, including creating and managing categories, tags, and posts. This helps students understand the importance of data management and organization in the digital world.
Digital Privacy and Security: WordPress enables students to learn about digital privacy and security, including the importance of password protection and keeping software up to date. This helps students understand how to protect their online identity and data.
Developing Creativity
Creativity is essential, and with the help of WordPress, students get the opportunity to express their creativity by designing and customizing websites. Teaching WordPress in school can be a valuable tool for students who want to present their work, ideas or projects to a broader audience.
WordPress encourages creativity in several ways:
Web Design: WordPress allows students to design and customize their own websites, allowing them to express their creativity through design and layout choices. This helps students understand the connection between design and user experience and how design can impact the overall success of a website.
Content Creation: with WordPress, students can create and publish a wide range of digital content, including text, images, and videos. This allows students to express their creativity through writing, photography, and other forms of content creation.
Storytelling: writing content for websites gives students the opportunity to tell stories through their website. They do this by using text, images and videos to create an interesting story about their products, experiences, events… This helps students understand the power of storytelling and how to use digital tools for effective storytelling.
Website Design
You can also enhance your lesson plans for WordPress with the content for students who are interested in graphic design. Integrating graphical design into WordPress education is important for creating visually appealing and effective websites.
Web Design Fundamentals: Teach students the basics of web design, including layout, color theory, typography, and composition. This will give them a foundation for creating visually appealing and effective websites.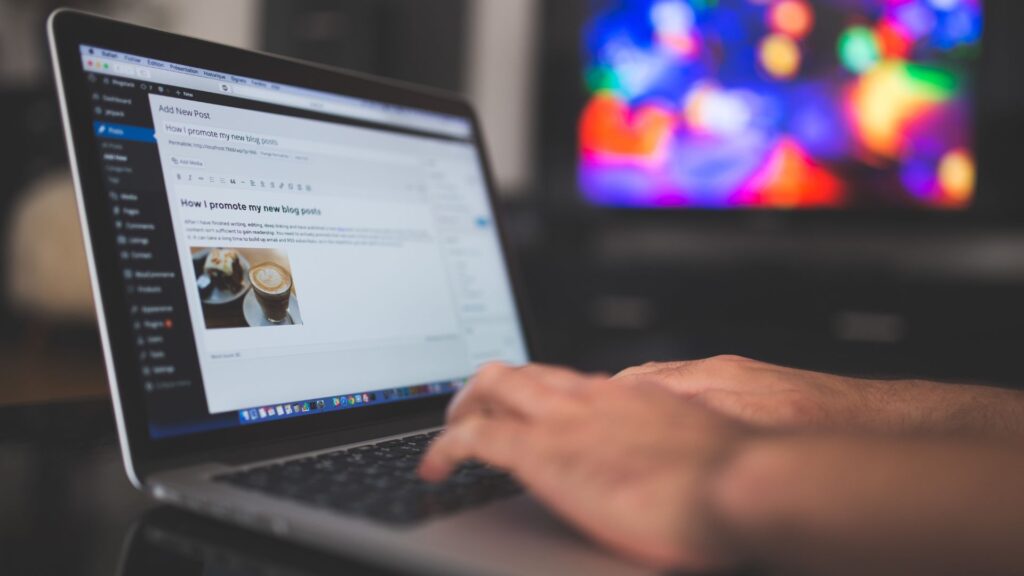 WordPress Themes: Introduce students to the wide range of WordPress themes that are available. Including free and premium options. Demonstrate how themes can be customized to meet specific design needs and how different themes can impact a website's overall look and feel.
Website Customization: Teach students how to customize their websites using CSS, HTML, and JavaScript. Emphasize the importance of visual design in creating a professional-looking website, and encourage students to experiment with different design elements to find what works best for them.
Using Graphic Design Software: Introduce students to graphic design software, such as Adobe Photoshop, Illustrator and increasingly popular Canva, and show them how to use these tools to create and edit images, graphics, and logos for their website.
Case Studies: Use real-world examples and case studies to demonstrate the impact of good design in website development. Show students how design can impact user experience, engagement, and conversion rates, and encourage them to think critically about the design choices they make for their website.
Problem-solving skills
Teaching WordPress is rewarding because it requires students to think critically and solve problems. It includes understanding the management and use of the platform and troubleshooting problems that may arise when creating websites. This helps students develop problem-solving skills that can be applied to many areas in their lives.
When teaching WordPress in school Problem-solving skills can be addressed a number of ways:
Troubleshooting: Even though WordPress is a relatively simple platform, students will encounter challenges when using it. By addressing these challenges and finding solutions, students will develop problem-solving skills. For example, suppose a student is having trouble designing a page the way they want. In that case, they will need to think critically about the problem, research potential solutions, and experiment with different approaches until they find a solution. It can also gain experience in how to adjust expectations and change requirements.
Website Customization: WordPress provides a wide range of customization options, but it also requires students to think through the outcomes of their choices. For example, a student may want to add a specific feature to their website, but they will need to consider how that feature will impact the overall design and functionality of the site. This requires students to think critically and make informed decisions.
Debugging: when working with WordPress, students also encounter a bit of programming. Programming is the technical part of the website, where the student must identify and correct errors. This requires them to think systematically and understand how different parts of the platform interact. By addressing these questions, students will develop critical problem-solving skills.
Acquiring entrepreneurial skills
The skill of creating and managing one's own websites is a valuable tool, as the students can decide for the entrepreneurial path in the continuation of their career. The acquired skills come together nicely in business and can be upgraded in an even more business-like content:
Website Development: WordPress allows students to create and manage their own websites, which can be a valuable tool for starting a business. Students will learn how to design and customize a website to meet their specific needs, and they can use the website to showcase their products, services or ideas to a broader audience. The page can also be used to present an association, club, or special projects…
Digital Marketing: by managing or developing the website, students have the opportunity to learn about digital marketing, including SEO, social media integration and email marketing. Students can effectively promote their website and reach a wider audience by understanding these concepts.
Content creation: WordPress allows students to create and publish content such as blog posts and pages, which can help them build an online presence and establish themselves as experts in their field. By knowing how to write stories, students in the field of entrepreneurship can turn these stories into marketing and sales tools.
E-commerce: WordPress offers e-commerce functionality through plugins, allowing students to set up an online store and sell products or services directly from their website. This can be a valuable tool for students who want to start an online business.
Better job opportunities
Knowing how to use WordPress can give students an advantage when they take their first steps into employment or start their own entrepreneurial journeys. With such knowledge, they have already gained their first work experience in the field of digital technologies. WordPress is a very popular content management system used by many businesses and organizations, so knowing how to use it can make students more competitive in the job market.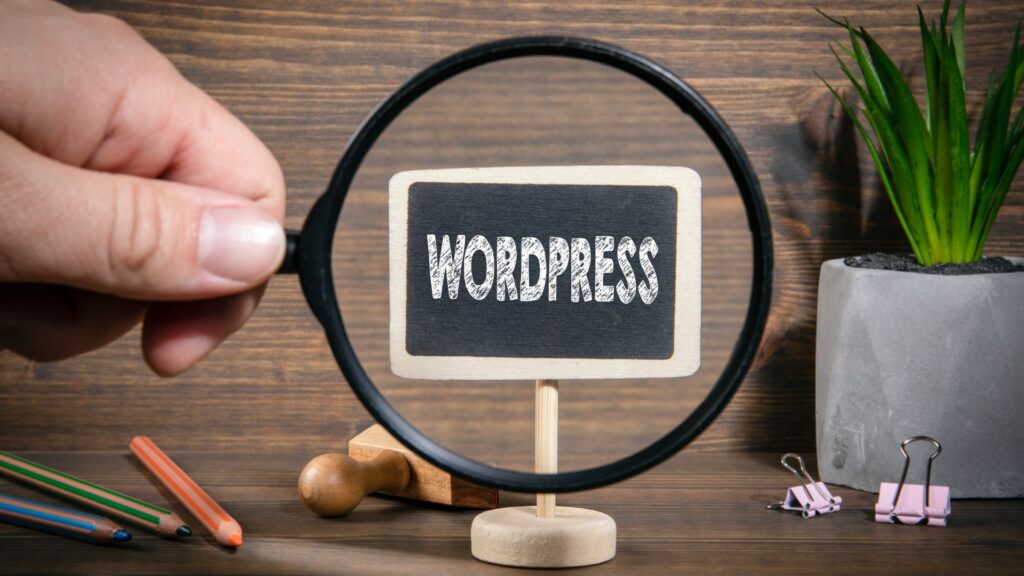 Want to teach WordPress?
Are you a teacher and would like to teach WordPress in your school?
Our Cobie AI smart classroom offers WordPress integration and allows teachers to easily monitor all students' work. The Cobie AI provides real-time monitoring of all pages created, making it quicker for teachers to review their students' work. Additionally, our smart classroom provides pre-made content in multiple languages, which can be used immediately in the classroom. To see how it works, sign up for our Cobie AI Smart Classroom demo, where we can give you a personalized presentation.
Mentors and tutors, are you looking for a powerful tool to help you monitor and guide your WordPress course participants?
Cobie AI is also a great tool for tutors teaching WordPress outside school. With Cobie AI, mentors can effortlessly monitor course participants' progress and guide them towards completing their final projects. Our platform is designed to teach students how to set up WordPress pages and maintain their content easily. To learn more about how Cobie AI can help you and your students succeed, sign up for a presentation of our Cobie AI smart classroom.
Conclusion
In conclusion, teaching WordPress in schools is practical and essential in today's digital age. With 40% of all websites built on WordPress, students will likely encounter it in their future careers.
Teaching WordPress is a valuable skill that prepares students for future success. It is a tool for creative expression and an important digital skill that students can use in the workplace and beyond. With the ability to tell the world what they have done, what they know, and what they like, students can make their mark on the digital landscape and stand out from the crowd.
Incorporating WordPress education into the curriculum can positively impact the future of our students and the job market as a whole. So, let's empower the next generation with the knowledge they need to thrive in the digital world.